Buck Wear Apparel Shows Your Camouflage Pride Year Round
As football season comes to an end, daylight expands and fishing season nears. Show your outdoorsmen pride with quality Buck Wear clothing and apparel. Buck Wear was introduced to the outdoor clothing market in 1992 and has continually grown in popularity since. From hunting hats to fishing t-shirts, Buck Wear offers funny hunting and fishing apparel featuring original artwork, realistic pictures, funny one-liners and a splash of attitude. Check out some of our featured Buck Wear items and shop our full selection of quality Buck Wear apparel available online from WB Woolen Mills.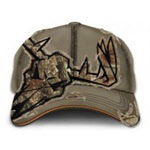 Skull Cut Away Buck Wear Cap
Our Buck Wear Skull Cut Away Cap combines deer hunting pride with modern design. A camouflaged deer skull drapes diagonally across this distressed hat. With all the modern flare of this Buck Wear cap, you might even find this hunting hat on your teenage daughter's head. Rough enough to wear hunting but stylish enough for everyday wear, this Buck Wear cap is the perfect addition to your outdoorsmen wardrobe.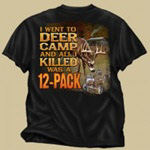 Killed a 12-pack Buck Wear T-shirt
Show you comical side and your deer hunting pride with this funny Buck Wear hunting t-shirt. Depict your real deer hunting triumphs and give your buddies a good laugh with the funny one liner "I went to Deer Camp and all I Killed was a 12-pack". This quality screen printed Buck Wear tee is comfortable and wears well all year round. Buy the Buck Wear Killed a 12 Pack tee online now from WB Woolen Mills and flaunt your hard core hunting sense of humor.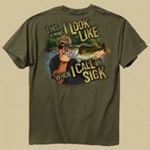 Call In Sick Fishing Buck Wear T-shirt
We don't recommend you wear this Buck Wear t-shirt to work, but you can certainly share some laughs with your fishing friends when you show up at the fishing derby wearing this funny fishing shirt. The t-shirt design shows a man holding a trophy fish and says "This is What I Look Like When I Call in Sick". Any dedicated angler would understand and laugh at this Buck Wear call in sick t-shirt.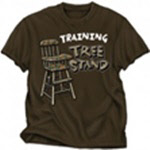 Kids Buck Wear Shirt
Like father like son. Dress your mini-me hunter in training in this kids funny hunting t-shirt. This comical Buck Wear toddler tee shows a camouflaged high chair as a "Training Tree Stand". This kid's hunting shirt is sure to give your son or daughter the warm 'just like daddy' feeling and give all your outdoorsmen buddies a good laugh. Buy the Buck Wear Tree Stand Kids Tee online now from WB Woolen Mills and buy yourself a funny hunting shirt while you're at it!
Show your hunting and fishing pride year round with quality Buck Wear apparel from WB Woolen Mills. This non-traditional funny outdoorsmen clothing is wildly popular and sure to rouse a laugh from everyone who sees it. Who says hunter's casual isn't legitimate attire?

Shop our full selection of Buck Wear apparel in a variety of colors and sizes online now from WB Woolen Mills!