Shop Work Wear & Outdoor Clothing
This Month's Featured Product:
6 Point Hudson Bay Blanket!
Hudson Bay Blankets:
Providing Warmth and Comfort since 1700!

As the cold weather quickly approaches, now is the time to purchase your woolen blanket. West Bend Woolen Mills offers a wide variety of historical Hudson Bay blankets. Our 100% wool blankets are extremely plush and were once used as currency in the 18th century. Every Hudson Bay blanket is blended and hand-loomed with the finest wools creating sheer comfort and superior warmth. Our collection of wool blankets are utilized for bedding, furniture and a variety of outdoor uses. From camping to hunting, our Hudson Bay blankets are guaranteed to keep you warm. With our variety of colors and sizes, we have the perfect wool blanket for you or a loved one. Get started on your Holiday shopping today with Hudson Bay blankets!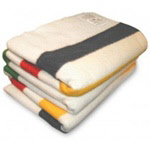 Shop the full selection of Hudson Bay Blankets for sale online for the plushest, finest wool blankets on the market today!
West Bend Woolen Mills is your source for premium, name brand work wear and outdoor clothing trusted by construction and manufacturing professionals, tradespersons, farmers, American sportsmen, and outdoor enthusiasts everywhere. A huge selection of rugged, durable work wear from worker preferred brands like Carhartt, Lee, and Wigwam is available online from West Bend Woolen Mills. We offer the outdoor clothing made from the finest materials by brands like Buck Wear, Choko, Red Heel, and Stormy Kromer keeping outdoorsmen warm and comfortable. Lay back and stargaze on your next outdoor outing with our full line of wool blankets featuring Hudson Bay blankets, Woolrich blankets, and other quality wool blanket brands. Pair your cozy blankets with cozy Old Friend Slippers for ultimate comfort. Appreciate the luxury of fine quality woven linen products at home with West Bend Woolen Mills' home goods line featuring the top brands in woven towels and dishcloths made from the best materials. With work wear and outdoor clothing products to enhance your work and play performance and the home goods to enhance your life indoors, West Bend Woolen Mills keeps men, women, and kids comfortable in all environments.
| | |
| --- | --- |
| | |
Quality Work Wear & Outdoor Clothing for Men, Women, & Kids
West Bend Woolen Mills offers a HUGE selection of work wear and outdoor clothing from manufacturers renowned for producing the highest quality clothing. Our outdoor clothing and work wear offers head to toe protection from the elements with popular name brands like Carhartt, and Wigwam. Working professionals and outdoor enthusiasts alike appreciate the maximum comfort, durability, and style offered by West Bend Woolen Mills work wear and outdoor clothing selection.
Increase your style and comfort with West Bend Woolen Mills' outdoor clothing inventory featuring high quality apparel like Buck Wear hunting clothing, Choko snowmobile apparel, Old Friend Slippers and Stormy Kromer caps. Outdoor enthusiasts and sportsmen shop West Bend Woolen Mills for the quality outdoor clothing brands with a proven reputation for comfort, style, and durability.
Now take advantage of free shipping on outdoor clothing purchases over $65!
West Bend Woolen Mills offers the work wear and outdoor clothing brands working professionals and outdoor enthusiasts have trusted for years at prices you can afford. When work and outdoor activities leave you needing to relax, we offer the fine home goods and quality wool blankets for improving your living quality indoors. Call West Bend Woolen Mills today at 1.877.334.7052 or contact us online to speak to an outdoor clothing specialist about our fine products.
For quality outdoor clothing and work wear, shop our outdoor clothing brands online 1.877.334.7052.