The Comfort and Warmth of Wool Hiking Socks
Quality wool hiking socks are important to ensure a good hiking experience. Wool hiking socks should first and foremost be comfortable. Your hike could be ruined if your feet are uncomfortable. It is also important that your wool hiking socks support your posture, wick moisture, maintain a good temperature for your feet, distribute pressure properly, cushion impact, promote good circulation and are durable. Wigwam Merino Wool Comfort Hiker socks are an excellent hiking sock that provides all of these features.
Wool Hiking Sock Features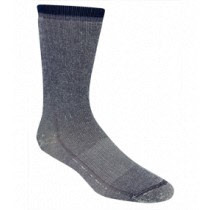 Cushion and pressure areas are extremely important when it comes to wool hiking socks. Improper application of pressure and cushion can cause major discomfort and potentially lead to physical damage to your feet and body. There should be padding around bony areas, especially around the ball of your foot and your heel. Mid-weight socks like the Wigwam Merino Wool Comfort Hiker socks provide substantial cushioning as well as add insulation.
The temperature and moisture control of your wool hiking socks also play a big role in your hiking experience. Too much moisture can cause discomfort as well as be a hot spot for bacteria and fungus. A wool hiking sock with moisture wicking technology is important. Maintaining a good and even temperature for your feet is also crucial. Wigwam wool hiking socks are warmer than cotton and also breathable so they can maintain the perfect temperature through every season or climate. Wigwam Merino Wool Comfort Hiker socks will provide both proper temperature and moisture control for an optimal hiking experience.
A good wool hiking sock promotes healthy blood flow and supports posture as well. Improperly fitting or unyielding wool hiking socks decrease the blood flow to your foot or even possibly cut off circulation. Also, if your natural posture is not supported you could experience premature fatigue and unnecessary soreness and discomfort. Wigwam Merino Wool Comfort Hiker socks provide the proper mix of material and elasticity to promote circulation as well as the proper cushion and foot hugging bands to support your natural posture.
Good wool hiking socks will be durable and comfortable. Wool hiking socks should have adequate cushion and proper pressure area distribution, control moisture and temperature, and promote circulation while supporting good posture. Wigwam Merino Wool Comfort Hiker socks provide all of these features. WB Woolen Mills offers these socks in various sizes and colors including navy, olive, charcoal, light khaki, and denim. They also have Wigwam Merino Wool Kid's Comfort Hiker socks available.
Wigwam Wool Hiking Socks from WB Woolen Mills
Some other Wigwam wool hiking socks available by WB Woolen Mills providing these features include Wigwam Merino Comfort Explorer socks, and Wigwam Trail Mix Fusion socks. Wigwam Merino Comfort Explorer socks are a thicker heavy duty version of the popular Wigwam Merino Wool Comfort Hiker. The Wigwam Trail Mix Fusion sock is a warm and soft Merino wool hiking sock with a cohesive moisture-reducing inner liner in the foot.
Buy Wool Hiking Socks Online
Shop our wide selection of Wigwam socks online today! Call 1.877.334.7052 for more information about Wigwam socks or any other outdoor clothing products offered by WB Woolen Mills.